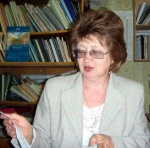 Taninskaya N.V.
Graduated from Leningrad Mining Institute, specialization «geology, prospecting and exploration of mineral deposits» (1971).
PhD in geology and mineralogy (2002).
Worked with design and research institute «Gipronickel», territorial production Geological Association "Polyarnouralgeologiya» and «Uhtaneftegazgeologiya» (since 1972). From 1980 to 2008 worked with VNIGRI as Head of the laboratory of prediction and prospecting of hydrocarbon accumulations in traps of non-anticline type, department of lithologic and tectonic methods for oil and gas forecasting.
Head of department of "Geolodorazvedka".
Area of scientific interests: lithology, sedimentation modeling, forecast of unstructured hydrocarbon traps, natural reservoirs.
Author of 127 publications.